Veronica Cline Barton
Veronica's #WritersDiary: The Countdown Begins for the U.S.A. Premiere of #DowntonAbbey; A New Era!
"You are a woman with a brain and reasonable ability. Stop whining and find something to do."
— Violet Crawley, Dowager Countess
#Squee It's T-minus 2-ish days until the USA film premiere of Downton Abbey; A New Era and I for one cannot wait! I am a diehard fan because not only do I love the series, characters, and storylines, but also because this series changed my life.
I've stated in previous posts it was the end of the season 6 episodes that propelled me into my writing career. Five years and soon to be seven books later, I have my own little world of #PoshPeopleDoingBadThings! (Huge snaps to author John Dolan for my new, cozy mystery series #hashtag 💖👑)
I'm looking forward to this new film, although I have a feeling from some of the articles I've read I should probably bring my hanky along. Secrets from the past come to light; romance and a wedding look probable; and it appears we'll be traveling to France in the new film. #OohLaLa
At the top of the tiered movie poster 🔼(courtesy of @DowntonAbbey on Twitter) it looks like a film crew will be descending upon the Downton grounds. These stately manors take loads of dough to keep up appearances. Lady Mary should have rang up Gemma and Kyle, they have all kinds of advice and lessons learned when it comes to filming at one's estate...Dun-Dun-Dun #Actors 🎭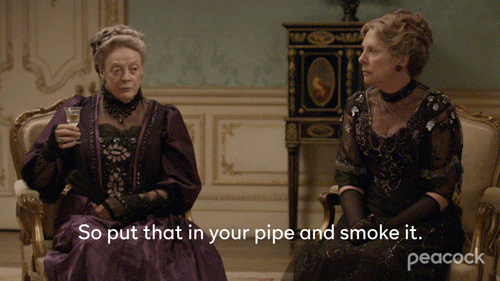 We had a bittersweet confession from one of my favorite characters, the Dowager Countess, Violet Crawley at the end of the first Downton Abbey movie. I'm glad she'll make an appearance in this film--Dame Maggie Smith has gifted us with a memorable character that always makes me smile. Her wit and fortitude have kept the Crawley family in line through the best and worst of times. I cannot get enough of her quips and comebacks!
So, until the curtain opens, I may just have to whip up a Downton Abbey cocktail or two and get out the DA Clue game for a few rounds to kill the time...
Are you planning on going to see the Downton film? Who's your favorite character(s) and their film moments? I'm still deciding which crown to wear to the theater, LOL. #WhyNot
Have a fabulous week, darlings! I'll share my thoughts on the film next time. It's Wednesday, time for #DearDiary:
The Perils of a Broken Heart... 💔
I've been immersed this past week outlining and writing Unrequited, one of my short stories in the Wicked Mist collection coming out this fall with Bibiana Krall. It's had a surprising effect on me as I think about the emotions and turmoil of break-ups and lost loves. I've certainly had my share on that front, LOL---fortunately, I was able to move on, learning from the experiences, and eventually finding my real-life Sir Kyle. 💕
There are many, many women and men who don't, or won't move on, however. Every day there's a news item featuring violent acts by frenzied couples going through break-ups; jury trials (Johnny Depp and Amber Heard desperately need to cut the cord); death of a spouse (I tear up when I see the aged Queen without her prince); and the myriad of celebraties (not a misspell) who move through relationships with non-stop selfies and a rolodex on permanent speed dial for the next 'true love'. #HeadSpin
What say you? Why can't a person let a failed relationship go, preferring instead to let their heart grow cold? Worse yet, what makes a person resort to violence or, gasp, mur-dah most foul; catty, vengeful outbursts; or an-eye-for-an-eye public flogging? I'd love to hear your thoughts on the matter---these are the dramas I'll continue to ponder as the plot thickens in Unrequited. I'm pretty sure the ladies of the Tempting Tea Society may still have a bone or two to pick on the subject... 💔💀🌹
A young widow uncovers mysterious secrets this week from the writers of Twitter...
Author Tasha Alexander, And Only to Deceive, Book 1, Lady Emily Mysteries, 5 ⭐
Lady Emily Ashton is a young woman who falls in love with her husband... after his unfortunate demise. Pressed into a society marriage like many of the gentile ladies of the day, she isn't quite smitten. When tragedy strikes early in the marriage, Emily navigates her mourning period with an unexpected find, the journals of the man she wed. As she reads his diaries, she comes to appreciate the adventurous spirit of her husband and learns how much he loved her.
As her formal mourning period draws to a close. Emily decides it's time to travel and learn about the antiquities and ancient languages her late husband enjoyed. When artifacts go missing at the museum and implicate her husband, Emily is determined to find the truth and clear his name. Two suitors offer to assist---will their friendship develop into something more? Who will she choose?
Author Alexander weaves an intriguing tale of a young woman's journey to self-discovery, mysterious encounters, and new relationships. I'm looking forward to reading more of Lady Emily's mysteries, highly recommended!
Next up in the #reading queue:
Cherrywood Hall West Gets a Refresh!
Hurrah! The painting, hammering, and plastic surround of the windows is done and gone! We are loving our new outdoor room now complete with a firepit and comfy swivel chairs. I cannot believe the difference the new paint colors made, they really gave the house a great spring makeover!
Now, here's a little spooky perspective...in the video above the title, can you see the green orb dancing above the flames? In the picture below, the orb shifted right and just a bit higher (it looks like it's sitting on the driftwood mobile...) It seems my little ghost girl, Star, likes to spend time outside with us in the new digs! (She showed up inside the house when I started writing my short stories for Hearth Fires, and has made herself known each year when I start writing--she likes the scary tales) #Boo
The pool area looks great too! #SplishSplash
Welcome to my world. Enjoy the rest of your week and your 'What is a weekend?' friends!
Crowns and Kisses,
Veronica
P.S. The editing is coming down to the wire for Blood on the Vines: Harvest at Castlewood Manor. Special, special thanks to Theresa Snyder, Mark Schultz, Danielle Gregorio, and Bibiana Krall for helping me complete this book birthing marathon--it takes a village! Also, huge thanks to all of you who have RT'd my posts/tweets and made the kind comments to help me with the marketing push---I'm very grateful! Gemma and Rikkhe approve 💖👑